Creating an attractive and popular mobile App is a fundamental step for any company. The right combination of features, design and user experience can make or break a product. Fortunately, several tips help get your app up and running quickly and efficiently.

A mobile application is a software application that allows users to perform tasks, business, purchases, and play video games, among others, through a mobile device. Mobile apps have become very popular because they are easy to use, convenient, and customizable.

To create a mobile App, a development, fine-tuning, publication, and marketing process is required in which coding, design, and user experience (UX) are implicit.

Coding – The first step in developing a mobile app is coding. This creates the software code allowing users to interact with your application. A strong coding foundation must be created to develop a practical mobile application.

Design: You must create an excellent design for your mobile application. This should be simple and easy to use without sacrificing functionality or quality. You should also ensure that the design meets all the requirements of Apple, Google, and other smartphone or operating system manufacturers.
Marketing: Once your app has been designed and coded, it's time to do marketing! For your app to be successful, you need to generate enough interest from potential users before they try it. Some standard mobile app marketing methods include social media promotion, conducting market research, and targeting demographics specific to your app's target audience.

How to implement a mobile application.

To implement a mobile app, there are a few things you need. First, you will need to decide which application store you want to publish, the Play store for Google or Apple App store, or if you're going to post it in both. Depending on this, we choose the programming language to be used for it to work on the devices would be your application will be installed. Second, you must define the type of application you want to develop, the functionalities that would be implemented, the objective of your application, and the needs it would serve. Third, it is always good to create some prototypes or mockups before starting to develop; this allows better validation of ideas and provides developers with clear guidance. Finally, after all of this is clear, you can start building!

There are many mobile applications on the market. However, it is often difficult to find the one that best suits your needs and interests; this is where you can think of creating a mobile app from scratch. You must be clear about how much effort (and money) ) you want to put into its development; if it is substantial, you can think of approaching this project in stages.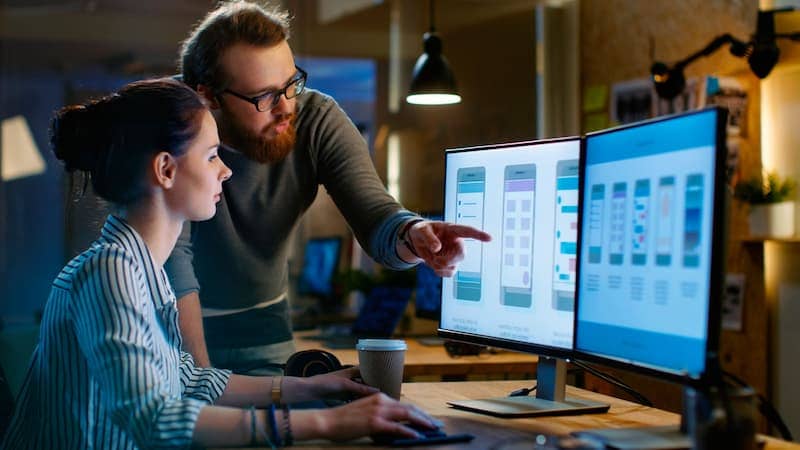 Tips for integrating mobile applications in your business.

When you integrate mobile applications into your business, the first step is to design an effective user interface. Your app should be easy and intuitive to use, and your users should be able to get the most out of their interactions with it.

To increase productivity, consider using mobile apps for research and data collection. For example, a mobile app can help you track customer behavior and trends, allowing you to improve your sales strategy or better understand customer needs. Also, by keeping track of employee performance records in one app, you can improve communication between employees and management.